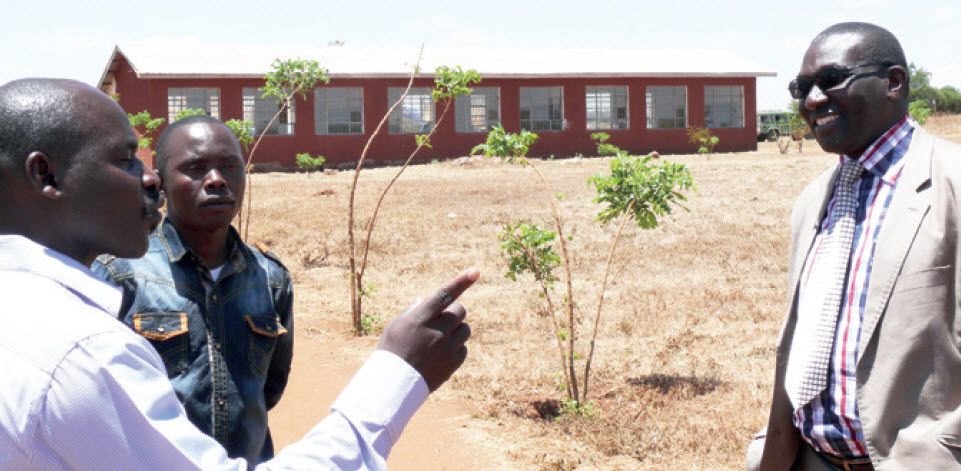 With our first newsletter we want to provide you with some background information on the ECLAT project in Tanzania. upendo was originally founded for the support of this project which we will present in this newsletter. Subsequently we will give account about who we are, about our network in Tanzania and we will explain the role of the Foundation for Care and Education.
IT STARTED A LONG TIME AGO

Many years ago, when Toima Kiroya and his wife Philomena were still children each family was obliged by the Tanzanian state to send at least one child to school. Toima was too young at that time to herd the sheep, the goats and cattle so it was him who was sent to school. Also Philomena befitted from school education which was quite unusual in Maasai society which hardly respects women. Attending a primary school in their home village Emboreet they both recognized the importance of qualified education.
The Maasai population presently doubles in less than 20 years. The total population was 840,000 at the census in 2013 compared to 377,000 in the year 1993 and 400,000 in the year 2003.
The economic competitiveness of the Maasai depends on their cattle but its numbers cannot be deliberately raised. Whole flocks die due to overgrazing and to lack of water. As a consequence the Maasai become more and more impoverished and can no longer participate in the economic development of their country. Poverty is closely linked to the lack of education and according to the last census the rate of illiterates amounts to 73%in the Simanjiro District where Toima and his wife live.
SOLIDARITY WITH THEIR OWN TRIBE

Toima and Philomena have realized the relevance of education both for their own lifes as well as that of their 4 children. Today Toima is a District Commissioner and as such an appointed civil servant installed by the head of the government. Their children go to the secondary school or to university. Nevertheless Toima and Philomena have not forgotten their origins: they have built a house in the village where they were born and where Philomena lives today with her family even though Toima due to his professional obligations can spend only very little time in his village. The couple`s house is part of a traditional kraal and can be well discerned on a satellite shot on Google Earth: 3°57'34.42''S, 36°26'09.26''O.
ESTABLISHING A SECONDARY SCHOOL AND WOMEN`S PROJECTS

But the two strove for more: together with friends they founded a charity, the ECLAT Foundation, in order to establish a secondary school in their village. There are public schools (with limited effectiveness as the rate of illiterates shows) but no secondary schools. Therefore they initiated the construction of a school with their own means. They tried to get as much financial support as possible in Tanzania. However the means available in Tanzania are rather limited and accordingly the school is a small one. In 2013 Emboreet secondary school students for the first time celebrated their final examination after 4 years in school. Today, 5 years after the beginning of the project, 133 students attend the school.
To stay in her place of birth was important for Philomena because she attempts to improve the situation of women in Maasai society. Supported by the Belgian Embassy she initiated women and micro credit projects – a task which no European educated as he or she may be, nor a man or a woman from another tribe would have been able to manage successfully. Philomena and Toima remained faithful to their dream: to show their own tribe, the Maasai, a way out of a seemingly hopeless situation. When they received the Belgian Harubuntu award for the ECLAT project in Brussels in 2011 this was an acknowledgement of their commitment and encouraged them not to give up.
THE SECONDARY SCHOOL IN EMBOREET

Also in Tanzania schools have to be constructed and managed according to state requirements. The ECLAT Foundation closely cooperates with the responsible governmental departments thus performing an important controlling and managing function in the school board. That way the school adjusts to the state school system – a prerequisite for sustainability. The school is meant to be handed over to the state which will be responsible for the school and which for example will employ the teachers. As a consequence the school will not be dependent on sponsors for decades. The sponsors "only" need to help with establishing the school. So far there is only one building with only a few classrooms, one of which is used as a room for staff and administrative matters. The teachers live in the former house of Toima and his family where they share a very confined space. They do not have a study to prepare classes or to assess student work. Like nearly all secondary schools in Tanzania Emboreet secondary school is also a boarding school. The students` families live far away and there are no busses or any other transport facilities. That is why the school in Emboreet has two dormitories so at least the girls can stay overnight. The boys live in the surrounding villages and some of them still have to walk a long way to school every day.
FRESH WATER FOR THE SCHOOL

Water is scarce in Emboreet and the dry season lasts 7 months. Hardly anybody has a ground water pump and the ground water level lies deep. At the beginning of 2014 the Welfare and Education Foundation provided money for the school`s supply of water. A well has been sunk and a water tank was built. The water pump from Germany and its supply of energy through solar panels is on its way to Tanzania. It is meant to pump 30 m3 clean water into the tank from a depth of 90 metres daily enough water for a much greater number of students.
THE FIRST SCHOOL GRADUATION…

… took place in October 2013. I was invited as guest of honour. It was a great and colourful celebration. To attend the event the students` relatives came from far away villages, some even from several days march away. They wanted to witness how their children celebrated their graduation. Above all however they wanted to see their big white hope and example, Toima Kiroya, and naturally his wife who has become an important model for Maasai women. They both come from Emboreet and are still members of the village community – it is obvious that they adhere to their origins. Thanks to the education they have enjoyed they have become rich and influential to a certain degree and they even have made friends in Europe. One of their friends –it was me-was brought along to the first graduation. The celebration lasted a whole day, the students sang and danced, long speeches were delivered and the students received their certificates with beaming faces. Their joy was infecting and their relatives were filled with pride.
More and more the population of the Simanjiro District gains a taste for formal education and there is a growing number of parents wanting for a better future for their children.