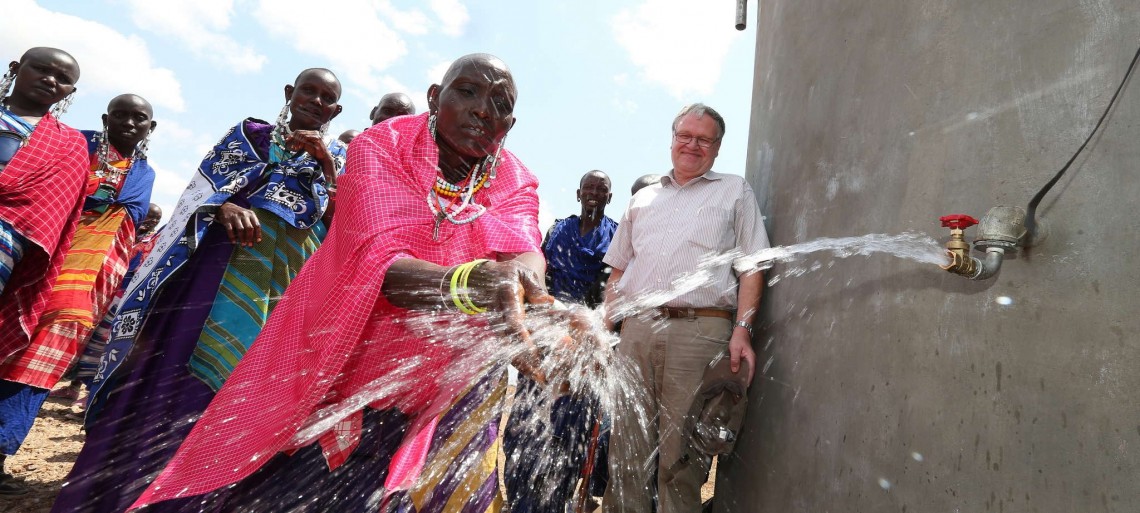 WATER FOR EMBOREET
The registered charity supports the initiative of a Maasai family to establish a secondary school in their remote village Emboreet (Simanjiro-Dis-trict, Tanzania) and to strengthen the position of women in Maasai society through women`s projects. Toima and Philomena Kiroya are the only members of their family who attended school and thanks to his education Toima achieved to reach a highly remunerated position in Tanzania. Nevertheless they have not forgotten about their origins and they want to support their society and to help women to more self-confidence and more independence. They also wish to make sure that Maasai children`s education will improve since still today nearly 75% of the Maasai are illiterates. Toima and Philomena founded the ECLAT Foundation and apart from women`s projects they began to establish a secondary school in their village. upendo wants to support them since their chance of doing this as well as their means are very limited. They have been able to build some classrooms and the government has sent teachers who already teach some students. To become an adequate and well frequented secondary school however there are many things which are still terribly missing. upendo together with the local government and the Tanzanian state wants to help them to achieve this and the Foundation for Care and Education offers support as well.
First of all an acute problem had to be solved: lack of water. The land is barren, the dry season lasts 7 months and water is scarce. The nearest surface water is many miles away and polluted, the ground-water level is deep.
Thanks to the financial support of the Foundation for Care and Education, ECLAT, upendo was able to provide the financial means which were necessary to drill a borehole and to build a water tank. Upendo sent an underwater pump and solar panels so that already on October 16, 2014 the first fresh and clean ground-water could be drawn: enough water for all, even in future once the school will have been brought to completion.
The clean water now available on the spot was welcomed with enthusiasm and the students can now concentrate on learning in school.
Sinyati Edward: The destiny of a Maasai girl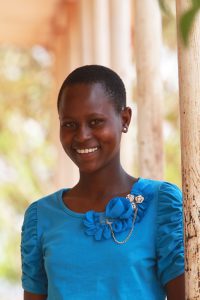 She is a perky 14 year old girl. She attended English taught classes at primary school so that we can communicate without any problems. She is not reluctant to speak to me about her life.
Sinyati was born August 8, 2000 in Narakawo, a village in the Simanjiro-District (Tanzania), where she grew up and where we met her. She likes to look back at her childhood and playing together with other children. Her mother had 8 children, 4 boys and 4 girls. Sinyati is the oldest, the youngest has just been born.
The father has 6 wives and one can see that he is a relatively reach man: Sinyati wears a watch and she is neatly dressed.
With some luck the father managed to enter the Tanzanite business, a local gemstone, and not withstanding being an illiterate now makes enough money to afford a relatively large house in the village and a car besides his six wives and many children.
Of his many children he sent to school only two and Sinyati was one of the. She went to a particularly good school in Arusha city. She remembers coming to the boarding school: it was a privilege but she was homesick. "It wasn`t so bad; the main thing for me was to be able to learn" she briefly comments.
Beforehand she had visited for a period of one year the public primary school in the close by village of Emboreet. During this period she stayed with the Kiroya family. From this time dates the nickname Mamaule and still today it is used by Philomena Kiroya and Sinyati still likes to hear it. She enjoyed learning hard and her favorite subject was mathematics but she was also interested in the other subjects. She is convinced that she did well in the final exams but due to the central organization of the countrywide exams she will receive the results only in the near future. But now Sinyati experiences a crisis. Under all circumstances she wants to continue learning in a secondary school but being 14 she has now reached the age at which girls are married off. Her father does not want to send her to school any longer only a brother of the same age (the son of another mother) has this privilege. Why should a girl attend school? A (later) marriage with a man of her choice this is something Sinyati cannot imagine. It is the father who decides; there is no doubt about it and objection is useless. Marriage customs in Germany? That does not go with the ideas of a Maasai girl. One day she wants to have children and live in the village but she has never really reflected this. As a girl she feels disadvantaged compared to boys – and as a Maasai girl she really is. We speak to her father who senses the relevance of education when his daughter had to translate our conversation for him. At the end he is convinced: Sinyati and her brother are allowed to attend a secondary school. Her brother being a boy is allowed to go to school anyway but now she as a girl will have the same chance. One notices Sinyati`s joy about this decision even though one normally does not show once feelings in this culture. Sinyati already knows what she wants to become: a nurse "so that I can help others". Asking her if she would like me to tell our friends in Europe about her she briefly answers "Please give my regards to all of them".