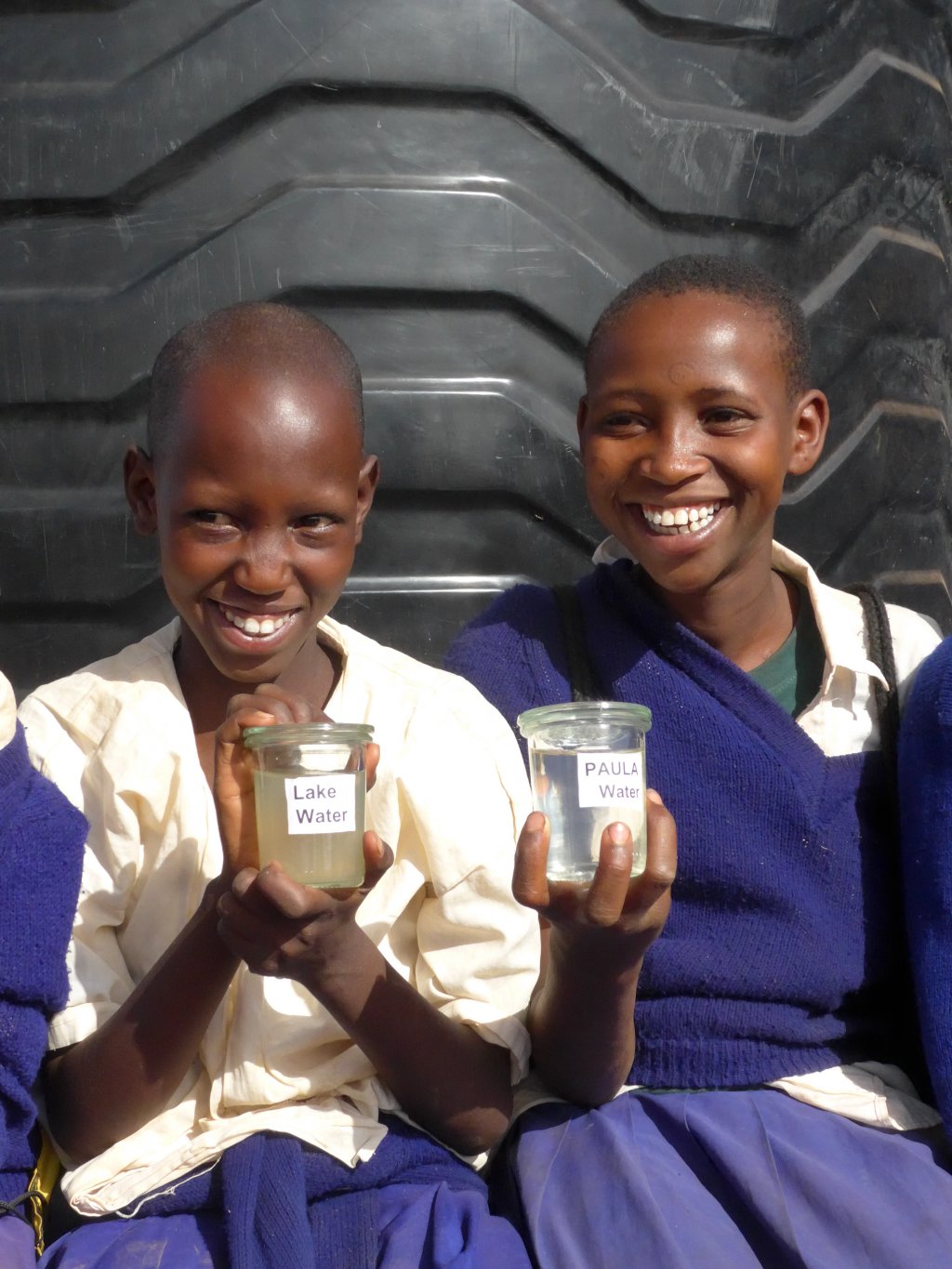 The village of Sukuro is about half an hour's drive away on unpaved pistes from Emboreet. Next to the village, a dam was built during colonial times, in which the water gathers in the rainy season. During the almost eight months of the dry season, thousands of cattle, sheep and goats come to the lake each day to quench their thirst in the water. The water is so polluted – also by the cattle`s urine and feces – that you cannot even see three centimeters deep into the water. Nevertheless, the villagers get their drinking and industrial water there – and many diseases, as the statistics in the local health center show. Fortunately, the lake is so large that its water supply is only insufficient in extreme years for the long dry-time.
In 2016, upendo was able to install a water filtration system in Sukuro through a special donation with a PAULA container. It took a few months for the container and all the equipment to arrive in Tanzania from Germany and customs cleared it. But after a crane lifted the container in Sukuro from the low loader onto the prepared foundations, the installation was completed in December before the rainy season began.
In the middle of the lake, a pump hangs from a pontoon, pumping the seawater through a long pipe into the container. There it is distributed in three tanks, in which special membranes are installed. Small pumps in the container draw the clear water filtered through the membranes into a fourth tank from which it is pumped into the storage tanks outside the container. Solar cells on the container roof supply the plant with energy; and thanks to the batteries in the container, the system works day and night. Thus the village population now has access to daily about 24 m3 of clear and hygienic clean water in drinking water quality. The village has formed a water committee, which is now responsible for the proper operation of the plant. For each bucket of water, a few cents are charged, in order to settle the costs and wages. The village management has decided that the local school gets the water for free.
Once again, the Regional Commissioner of the Manyara region, Joel Bendera, was guest of honor at the opening ceremony. On behalf of the minister, he opened the facility with a bucket of fresh water in the presence of many guests, ia. also by Mrs. Rebecca Trienekens from the PAULA Water GmbH in Germany.
Overview of the individual project steps:
Shipping of the PAULA container with all accessories to Tanzania, transport to Sukuro in 2016
Installation of the plant in 2016
Official opening and handover to ECLAT and the village of Sukuro on February 9, 2017